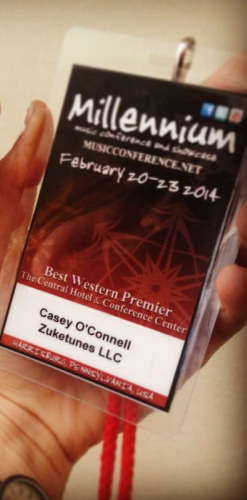 I went on a weekend trip to Pennsylvania with Zuke and zuketunes student, Emma Brooke. The Millennium Music Conference was a place where musicians and people in the music business come together to learn new things, share their experiences and talents, and build relationships with one another. Budding artists are given advice on how to grow in this changing and demanding industry from those with more experience. I was a bit out of my element, as I am not that well versed in the on-goings of the music world. However I absolutely adore learning, no matter the subject, and it was a really rewarding experience.
For those of you that are working on your music, and your art and whatever else you have going on in your life, all of you would have learned something valuable at this conference. I am here to share with you one of the most important things that I kept hearing about this weekend. That thing is:
NETWORKING
.
At this conference, the expert panelists speaking about the music industry brought up the importance of making social connections. Networking is a valuable experience because it can open up so many doors for a person. However, I noticed that a lot of attendees weren't speaking to the others. They left their business cards on tables all throughout the conference rooms and some made sure to speak to the experts, but, nobody came up to me to personally promote themselves. And I thought, 'How strange! Well why would that be? It seems so easy!' And it is!
Emma was a great networker. She went up to nearly everyone she met and was not afraid to strike up conversation, make them laugh, and leave them smiling with her business card in their pockets and a meaningful memory. She was able to make an impression with a simple interaction. I thought back to the other attendees and thought about why I would be reluctant to do what Emma had done. Intimidation, laziness, and not understanding the importance of networking seemed to be the only conclusions I could draw.
Networking may seem intimidating at first, but I promise, once you think about what it really is and how important it can be, you'll see how simple it can be to do!
What is Networking?
I'm sure you all hear that term a lot these days, but it's a term that won't ever die and is just as important then as it is now. Networking is really just a fancy term for "building relationships." Meeting new people is SO important. This weekend, I was fortunate enough to have met some brilliant people. And, even if they were part of an entirely different field than what I myself am interested in, it was great to learn new things from people I'm not used to speaking to. There's nothing wrong with expanding your social circles!
Mom always said not to talk to strangers
That's fine advice, and something that you should definitely listen to. But if you're around people you trust, and in an environment that promotes building contacts, don't be afraid to go up to someone new. Of course, there will be people you meet that seem a little off, but trust your gut. Use proper judgment and gut instinct to determine whether or not a person you're meeting is genuine. Give everyone a chance, but you guys are smart, you'll know who to talk to and who to be wary of!
What about
Social
Networking?
You can people
socially,
via Facebook, Instagram, Twitter, Email, etc. If you're looking to promote yourself as an artist by using these social media sites, try and think of how you'd interact with someone in the real world. Use these sites to build a friendship with people by sharing your interests, interacting personably and responding to everyone. Read articles and blogs from people writing about things you are interested in, and don't be afraid to send the author an email asking questions or thanking them for writing about so and so. They'll either respond to you, or they won't! But any conversation can lead to a possible connection. (Be cautious with people you talk to over the internet as well.)
What if I'm afraid to talk to people?
I understand what it's like to be shy and intimidated by others, but you just have to remember one thing: who cares!? When you meet someone new, you either hit it off or you never speak again. With that logic, wouldn't it make much more sense to try and talk to them? You clearly have nothing to lose, but so much to gain!
What if people don't like me?
This isn't that uncommon of a fear, and there's an easy answer to this question: WHO CARES? You're awesome, and someone will notice. Don't worry about impressing people. Own who you are and that confidence will be impressive enough. With that confidence in mind you'll be able to meet anyone!
I don't know what to say!
Talk about
anything!
Compliment someone's shoes! Talk about the music you like! Bring up some topic in the news! Heck, the weather isn't exactly the worst thing you could talk about. A conversation can start from the simplest of things, and can bloom into so much more. Little conversations spark bigger discussions, and those discussions can teach you something you may have not already known. Sharing little stories helps build these social connections, and even if nothing at all happens from doing that, at least you had a cool conversation with someone new.
The three of us met some amazing people this weekend, and we made connections that could possibly come in handy for our futures. We were able to take our experiences with these new people and learn things we hadn't before. After only three short days and countless interactions with others, we all came back with a greater understanding of certain subjects that we may not have been knowledgeable in before.
My point is, you never know who you're going to meet. So just get out there and talk to any person you can, at any opportunity. These new people just may bring something new and of value to your life and future career.