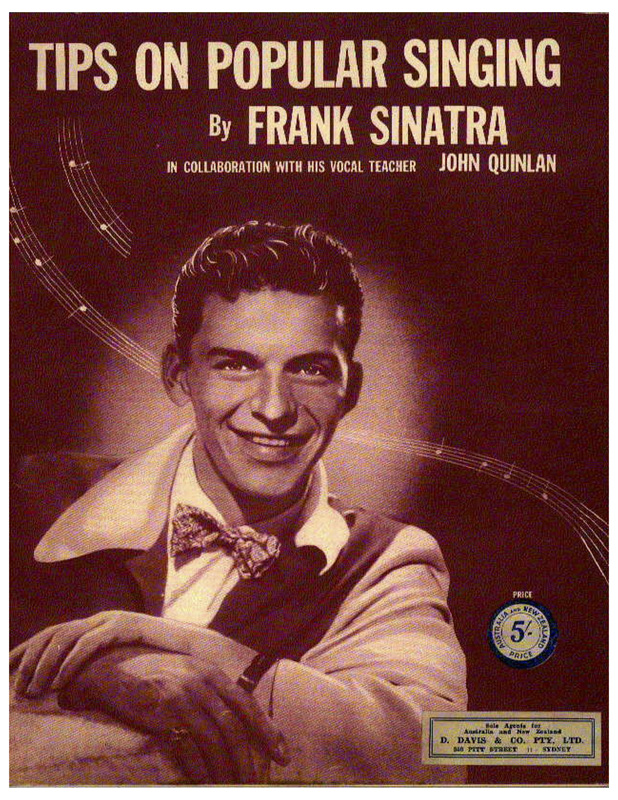 In writing this book, Mr. Sinatra was extremely fortunate in securing the collaboration of his well-known coach and voice teacher, John Quinlan. They have written a work which, I hope, is the beginning of a subsequent series of books of this type. -Tommy Dorsey, A Word of Commendation, "Tips On Popular Singing" ©1941

Every lesson I teach is usually a bit of a warm-up consisting of the standard lip bubbles, siren slides, fricatives, and anything that's helpful and specific to the student. After that, we move on to repertoire. For me to say I use one particular method would do a disservice to the multitude of great teachers and associates I have culled my teaching style from and use today. I prefer to say I use the

smörgåsbord

method. I have tested out numerous methods, suggestions, positions, crazy ideas - you name it! - on my own voice just in case it applies to a student. What's good for the goose, isn't necessarily good for the gander.
---
Whether it is a ballad, a hill-billy, a swing number, a novelty song, a marching song or a comedy number, the popular song has that 'something' which makes people forget their troubles and cares, when together, better than any other medium. -The Publisher, "Tips On Popular Singing" ©1941
My last student yesterday, Bob McKay, is a true joy to teach. Bob is a Senior VP at
SEPPIC
and our conversations range from him telling me about the chemistry of his product line to our past readings of
Gurdjieff
and
Ouspensky
with a dose of the latest financial investment advice on the wild ride of Apple stocks. But what do I love most about Bob? Every single week he brings in the coolest songs to work on, which help me to remember things about my past that I thought were gone for good! The way I teach Bob is so very different from the way I teach my 12 year old pop student, Grace, and the way I teach her is different than my professional dancer, Sky. It's important that I keep up on vocal pedagogy information so I can serve my students well.
---
John Quinlan was a vocal coach

but he didn't teach my father how to sing. Nobody did.

-Nancy Sinatra, July 2001
Bob brought in the Frank Sinatra version of the song,
"I Get A Kick Out Of You"
by
Cole Porter
, originally from the show
Anything Goes,
but made famous by
'Ol Blue Eyes
. I was paying attention to how Frank almost chews every word he sings when I remembered that I had a copy of his vocal method book. (Don't ask!) I am still helping Bob to get rid of jaw and tongue tension, so listening to any of the
Rat Pack
singers is extremely helpful. By focusing on how Frank pronounced any "ooh" sound, Bob noticed how far back in the throat Frank sang. Just that awareness alone helped Bob to open his sound more. Is that considered a method? Nah...just years of observation and sharing of information.
---
If the student desires to attain success in the popular field, good health, hard work, and plenty of patience are obligatory.
-Introduction, "Tips On Popular Singing" ©1941

A daily (and yes, that means 7 days per week) vocal warm-up routine is necessary for any singer who wants to be taken seriously. You have no excuse with the over-abundance of methods and programs available for free, minimal cost, and some priced so high I wonder what their motivation is. Teachers charge anywhere from $50.00 to $500.00 per hour for a lesson. Does a high price mean quality? For me, anyone more expensive than my attorney is suspect, but that's my personal threshold. You be the judge for yourself. Audition different teachers to find the best one for you. Ask students about their experiences with teachers. If I am not the best teacher for you, I will let you know and try to help you find someone better suited for your needs. Any good teacher will do the same.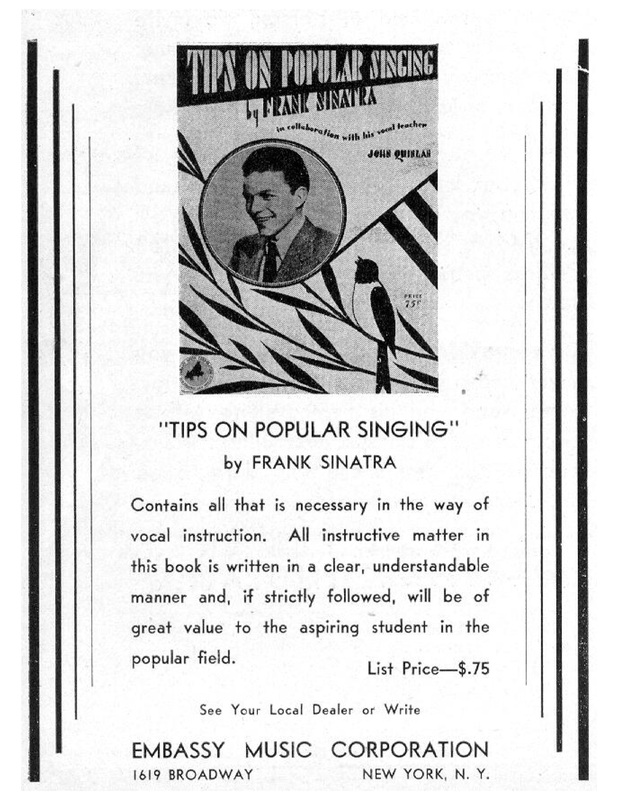 What crazy vocal method(s) have you tried? I'd love to hear about your experiences!

Peace out and rock on,
Zuke