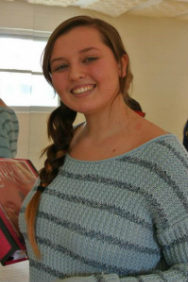 That's Larissa in the photo. Yep, I fired her several months ago but she's back again and stronger than ever. You are probably saying "Whaaaat? That's weird!" Could be, but so is paying to learn a craft and not working on it.
When Larissa first came to me she was a natural singer with absolutely no direction. That's not unusual for a young teen. We took the journey together having her work on different styles so she could make some decisions to showcase her singing: coffee houses, karaoke, community theatre. I never got a sense that she loved or even liked any direction and at one point her mom came in to talk with me. She was concerned that Larissa wasn't motivated to do anything with her singing. At that point, I shared that concern.
That's when I had to make the decision to fire her. Don't get me wrong, I took no pleasure in doing this and questioned myself before doing so. I told Larissa to stop taking lessons with me for 6 weeks and at the end of that time, she should decide if she still wanted to pursue lessons to do something with her singing.
I didn't know if Larissa would be back in my studio or if I'd ever hear from her again. Right on target, about 6 weeks later, she wrote saying she was excited to see me and couldn't wait to tell me about her transformation. When Larissa walked back into the studio, I saw a proud young lady ready to get to work. She fell in love with musical theatre and found several places to audition. Wow! I don't know what happened in her time off, but I'm sure glad she found her way.
Fast forward a few months and Larissa is now rehearsing to play the lead in the musical
Carrie
at
The Helen Hayes Youth Theater
. Drive and passion coupled with her talent brought her to this point. And with that gorgeous smile of hers, she's ready to light up the stage.
-Zuke