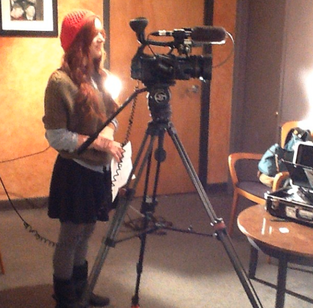 Hello, Zukoids!
I hope you enjoyed the holiday!
As some of you may know, I have been working on an interview project with Zuke for the past few weeks. My William Paterson classmates and I sat in on a few of her lessons, and had a chance to talk with her about nearly everything. The entire filming process was incredible! It was an opportunity to get behind the scenes at z
uketunes
and see what was happening with her and some of her students.
We immediately saw that these kids, who have their own unique styles and talents, had another big thing in common: they LOVE Zuke. She helps them in so many ways beyond just teaching them how to use their voices.
By the end of shooting, even my classmates considered taking lessons with Zuke! Not only did she cook them food and make them laugh, she also gave them helpful life advice. One of the members told me after we left: "That was one of the most incredible filming experiences I've had in a long time."
During our interview, we spoke to Zuke and asked her what she loves about her job. She confessed, as it's no surprise, how much she cares for students and how her ultimate goal is to inspire and motivate them to be their best selves. She gets satisfaction in helping them succeed, as any great teacher should.
So my advice for this week is:
Do what you love, and love what you do!
These students thoroughly enjoy their time in her studio, and love singing. My classmates and I certainly enjoyed filming and editing this project, which solidified our love for the field we are about to enter after we graduate. And Zuke continues to love her job and truly care about her kids.
You will be able to see all of this in the final video, which will be posted soon!
Casey
casey@zuketunes.com