JAKE ANTELIS
Producer/Mixer/Engineer
Jantelis.com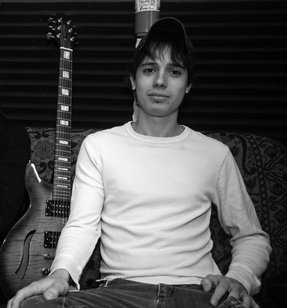 Your father is an engineer - talk about what it was like growing up and watching and learning from him.
My dad has been a musician (session guitarist and bassist as well as playing live) all his life as well as an engineer, doing both live sound and studio work. He had a studio in the early 80's in NYC called Giant Studios which was a Rehearsal/Studio space and he was in bands growing up. He never pushed me to pursue music or do anything else I wasn't interested in. I was always drawn to music and specifically drums and melody. Drums are my main instrument and I have to thank my dad for jamming with me when I couldn't play or hold a beat when I was a young kid...and also to my mom for putting up with a noisy house.
How long have you been working as an engineer/producer/mixer?

I have been dabbling in recording since 2005 and professionally since 2006 (i.e., getting paid to do it) and prior to that I had a career of running story tapes on a Little Tikes tape recorder with a built in mic that I would record my vocals over as a 5 year old kid.
Describe your ideal artist to work with in the studio.

An artist that is always pushing to be the best at being themselves and having and wanting their own sound. Beyond that I am very into having a positive attitude in life and I find that it's very important for artists to keep it fun and not too serious. I am all about the songs and for me the sound always comes after writing a great song...without a great song you have nothing but a great sounding recording. I am looking to work with artists who are looking to do music longterm and get their music out there (outta their practice spaces and into the world on a large scale).
What is your favorite part about engineering/producing/mixing?
My favorite part is when I am finished with a song or record...but not in the way you might think. It's my favorite part because I can sit back and enjoy the song for the song alone and can hear all my hard work right there in the speakers. Also, working with artists who put their whole lives on the line to focus on music and art is a huge blessing and I am very thankful to be able to do this for a living.
You come from a big family - does working in a studio give you a private space?
My family has always been very supportive and also very musical in their own right..(probably much more than me). There are quite a few of us and most either sing or play multiple instruments or both. The studio is a place where I feel at home and at peace with myself and the world. As far as escaping family in the studio...not really! My siblings are all very talented and I have worked on 3 albums and 3 eps between all my siblings and I just started another two records a few months ago in my spare time for my younger brother and sister (respectively).
Please brag about any gear you have that you feel is special.
My ears. Aside from that I recently bought a new microphone mainly for vocals a
Manley Reference Cardiod
which is just incredible. Check out the
gear list
on my site for all the stuff I use.
How do you balance yourself and take care of your health and well being with such a busy schedule?
I eat pretty healthy, about 70% raw food (think organic veggies, fruits and whole foods). I don't smoke or drink crazy amounts of alcohol...just the occasional red wine. I work out every day of the week before I head into the studio and don't start my day any other way. I'd be lying if I said I got 8 hours of sleep a night...I don't, but I do my best to keep it all in balance by not staying out late partying and just take it easy after a long day in the studio.
Check out more on Jake!
SoundCloud reel with 57 songs
Press
---