KATIE HAMBOR
Graphic Designer & Web Design Manager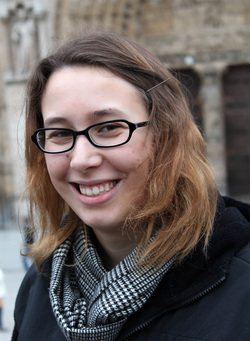 Katie Hambor is a recent graduate of Rider University where she double majored in Graphic Design and Music Studies with a minor in Web Design. While there, she worked as the Design Manager for the school newspaper, The Rider News.

Throughout elementary school, Katie was always designing greeting cards and decorating her school "logs," but it wasn't until high school that she realized that graphic design had always been her passion and she would pursue it as her career. Her passion for music was not quite as subtle—well before she could walk or talk she was bopping to any and all music around her, most notably the family Casio keyboard and the theme of Bonanza.

Though Katie loves freelance graphic design work, ideally she would like to work at an in-house design company on packaging design or marketing materials, or for a publishing company, but she is not limiting her options and is letting the design winds take her wherever they please.

---