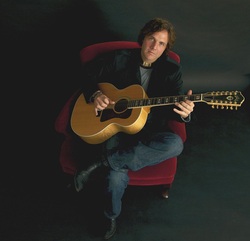 Marc Ribler enjoys destroying preconceptions, whether about life, love, or most important, rock 'n' roll. The notion that singer/songwriters magically create music to delight the masses is one that Ribler works hard to dispel. The process has its mystical properties, to be sure, but it's hardly automatic. For someone who began singing in his bedroom at the age of nine, his odyssey is all about getting better with each effort, not achieving the impossible goal of perfection. Ribler is part realist, part dreamer and the path he's followed from simple fan to actual creator illustrates the virtues of hard work and dedication as much as it does good fortune.

Born and raised in Brooklyn, Marc discovered that his home in the Nostrand projects was a microcosm of society, replete with the joys and ills common to life in the twentieth century. When his family moved to New Jersey near the shore, Marc faced the prospect of a major adjustment. That he chose to do it with music reveals much about both his profession and passion. A voracious consumer of music on the radio, Marc listened to everything from Jimi Hendrix, The Rolling Stones, and Led Zeppelin to The Beatles, Donovan, and Bob Dylan. His muse became the seminal sounds of then "underground" station WNEW in metropolitan New York City and the cryptic banter of DJs such as Scott Muni and Allison "The Nightbird" Steele not only served as information but inspiration.

Marc has written and produced over 40 songs for major label recording artists in the USA and abroad. Many have charted in the states and on the Canadian Top 10, and he has also written, sang, and produced national television and radio ads for Activia yogurt (which has been running for over 8 years), V8, Office Depot, Green Mountain Coffee and a highly controversial STD and HIV awareness commercial for Trojan Condoms. He also scores music for film.
---